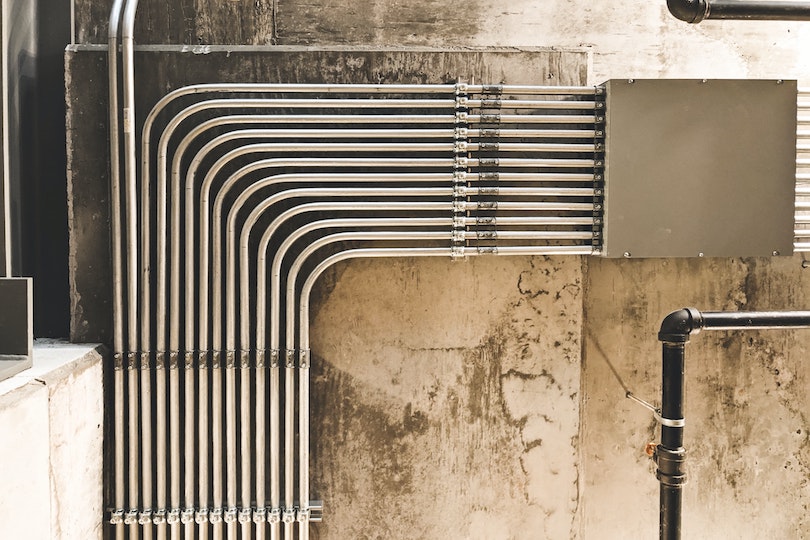 Agyle Time simplifies Workforce Management ensuring cost optimisation of your resources, allowing you to better schedule to actual workload, manage costs and improve customer satisfaction.  Agyle Time uses a modern development approach with cloud technologies to engage teams and their customers with a secure and 'go-anywhere' platform which takes just minutes to set up.
Agyle Time's Saas platform and its connectors are dynamic and fit different customers' needs. However, tenant isolation along with their individual data was crucial and a mandatory requirement for large customers, in the baking industry, for example. Due to the increase of demo requests and new tenants coming on board, automation was vital to keep innovating and delivering the best to Agyle Time's users.
DNX was engaged to elaborate and implement their new cloud operations, taking into consideration the AWS Well-Architected pillars: 
Operational Excellence

Security

Reliability

Performance Efficiency

Cost Optimisation
Several aspects have to be considered when architecting automation for a Saas solution like Agyle Time's one, aspects like cross-tenant prevention, data protection, and tenant isolation are examples of important considerations.  Already using Buildkite for CI/CD pipelines, DNX has implemented automation on the existing CI/CD tool.  Using Docker containers orchestrated by AWS ECS plus deploys via CodeDeploy with zero downtime deployments.
After applying our DNX One AWS Foundation, where the new modernized application would thrive in its new platform, one important component of this entire solution is our automated CI/CD strategy.  In Agyle Time's solution, each tenant has its own stack and collection of resources on AWS.  As part of our Operational Excellence approach, for an operations baseline, we already use Infrastructure as Code (IaC), and the DNX Team designed efficient pipelines for AWS resources provisioning.  So when new tenants are added or a sales demonstration is required, Agyle Time can provision a collection of AWS resources and deploy their application with a single click.  Previously, this would require several manual operations before that were not scalable and subject to human error.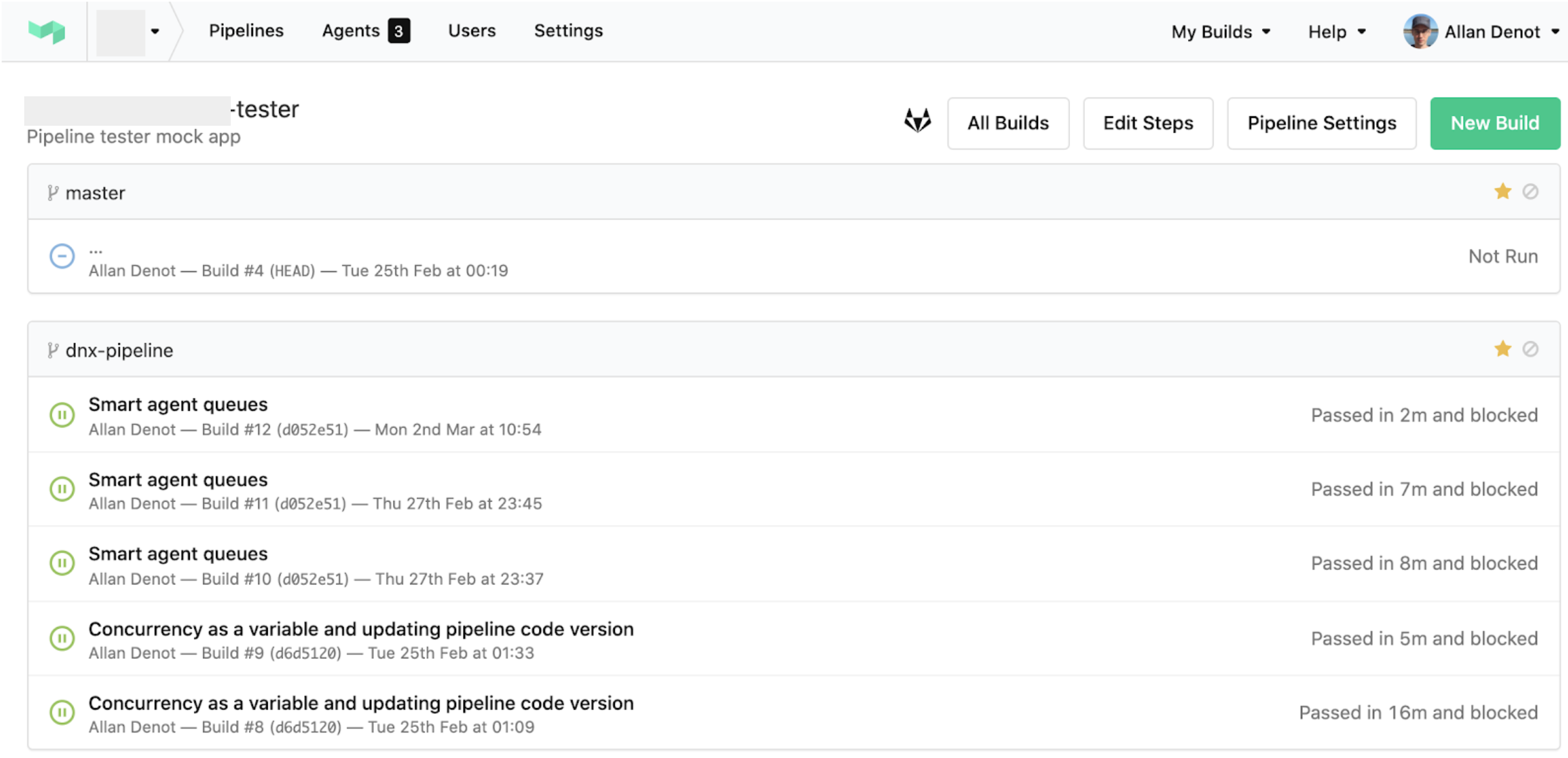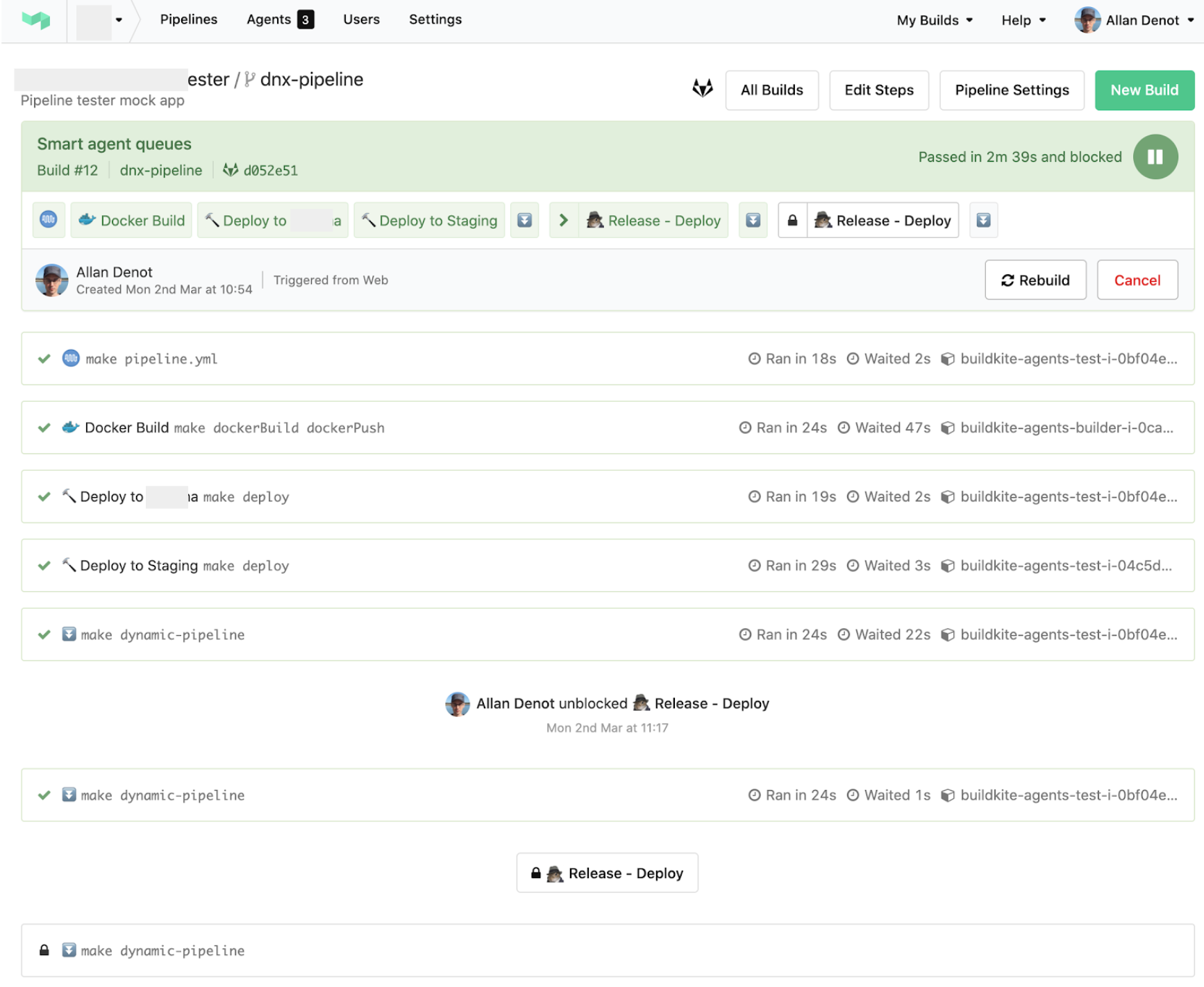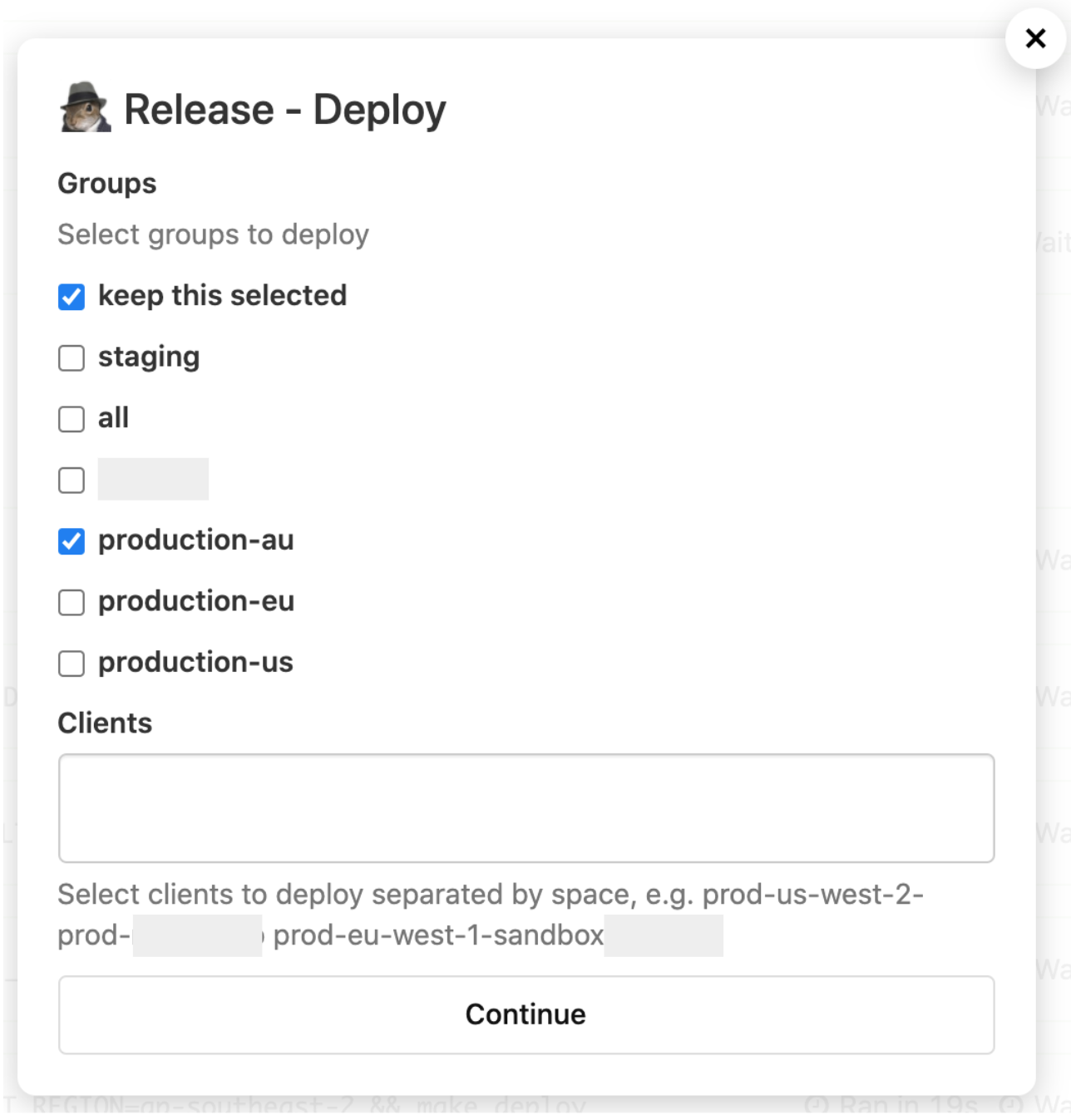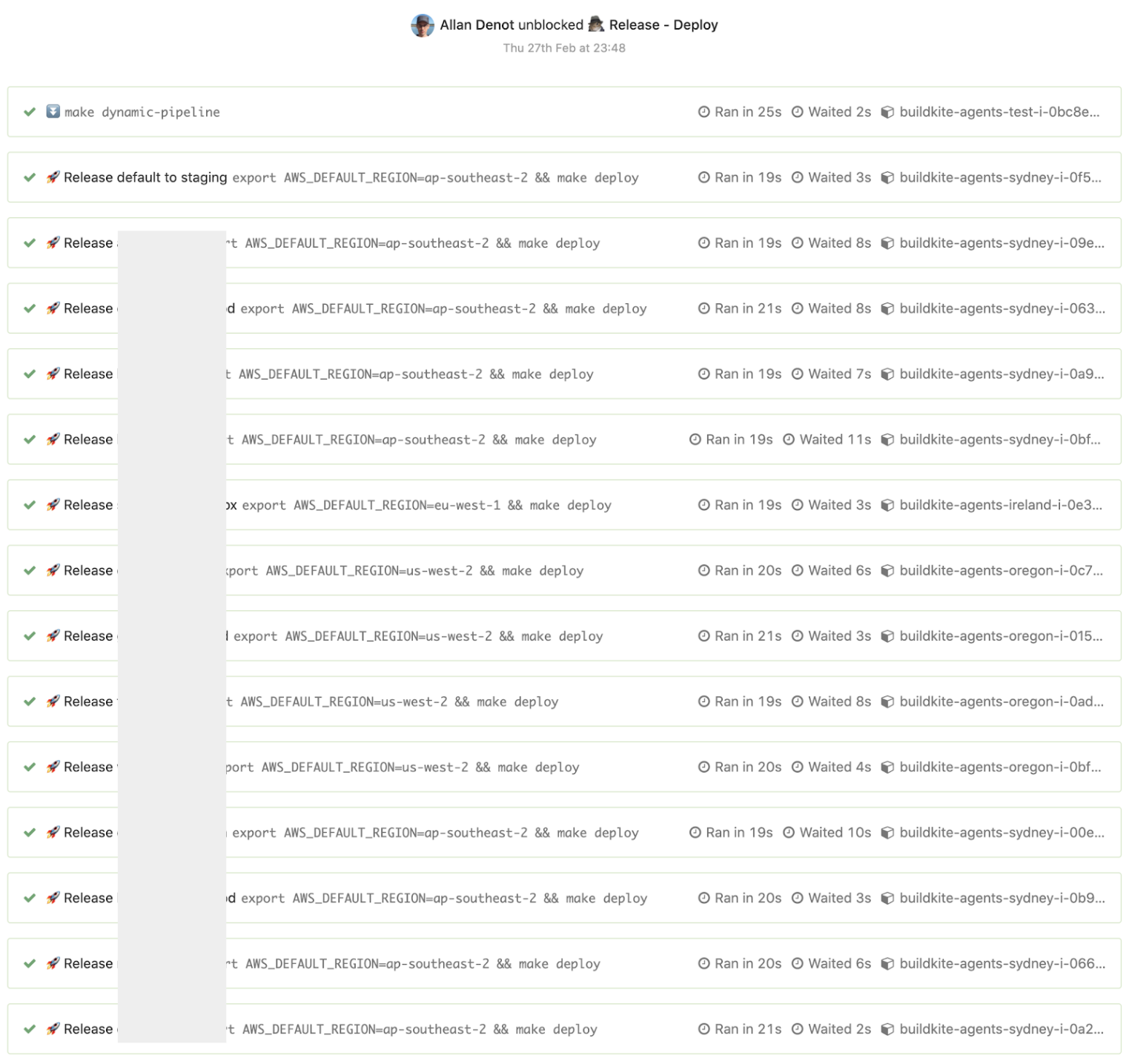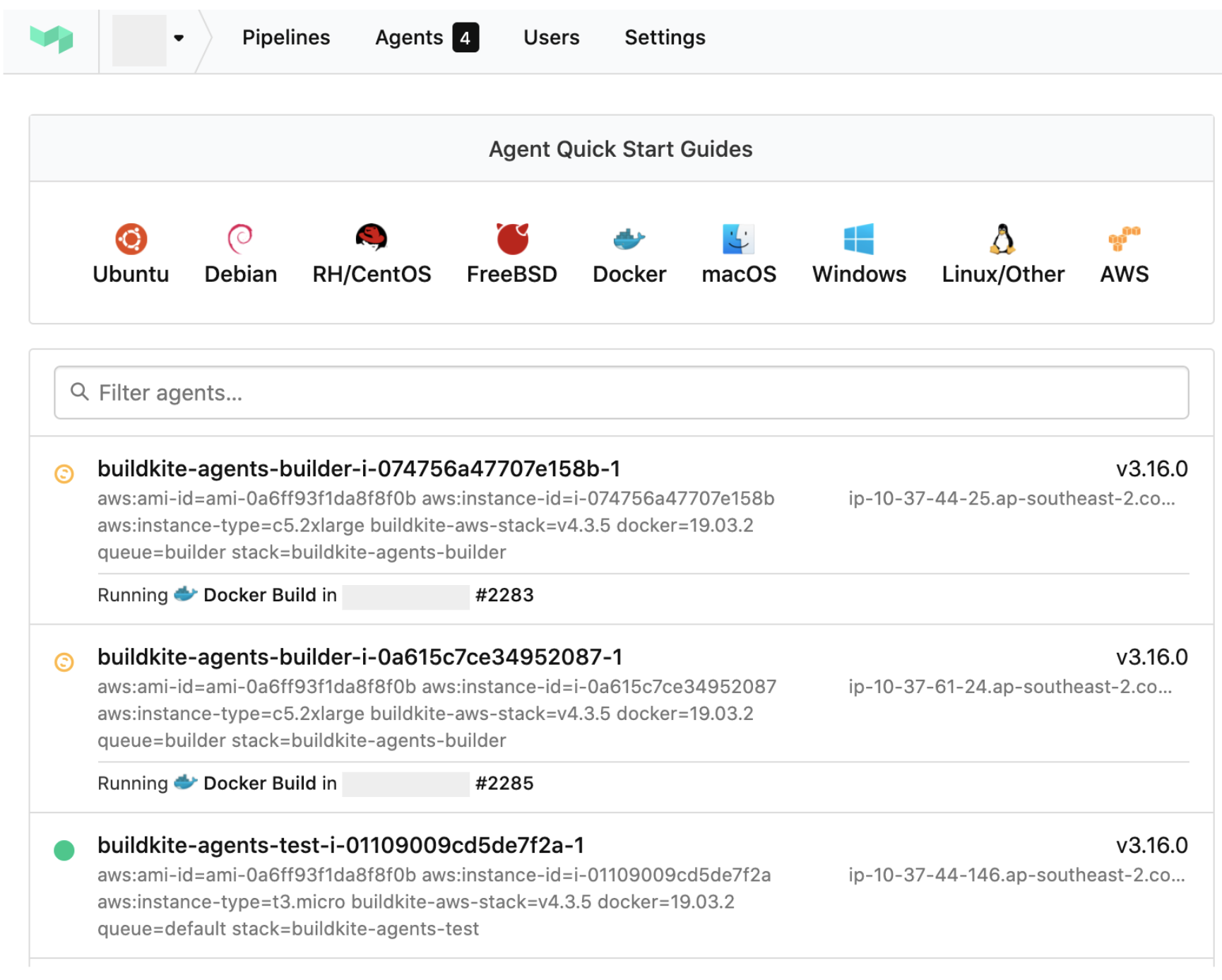 Images regarding Buildkite demo
Once a new release is deployed in a staging phase, the application is largely deployed for all customers across the tenant's environments. The application will also benefit from elasticity and cost reduction on AWS, as our application platform built in the AWS Foundations phase uses spot instances with significant savings compared with the previous architecture where Agyle Time's solution takes advantage of great computing power with much lower cost.
Some of the AWS Services provisioned:
With the new continuous delivery built by DNX, Agyle Time can now provide resources or deploy releases for current and new customers automatically in an elastic and highly available way on AWS.  Accelerating their demonstrations to potential new customers and increasing their sales capabilities and always keeping existing tenants' data protected. We achieved great outcomes for the DevOps automation and also immense cost reduction, reducing the TCO (Total Cost of Ownership) and computing costs by more than 70%!
At DNX Solutions, we work to bring a better cloud and application experience for digital-native companies in Australia.

Our current focus areas are AWS, Well-Architected Solutions, Containers, ECS, Kubernetes, Continuous Integration/Continuous Delivery, and Service Mesh and Data Solutions (movement, transformation, lakes, warehouses and analytics).

We are always hiring cloud engineers for our Sydney office, focusing on cloud-native concepts.

Check our open-source projects at https://github.com/DNXLabs and follow us on Linkedin or Facebook.
Stay informed on the latest
insights and tech-updates
No spam - just releases, updates, and tech information.