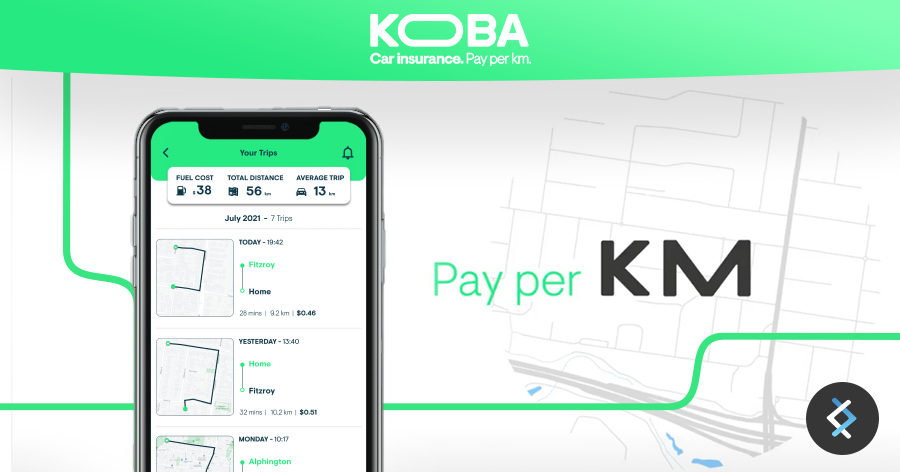 The Aussie start-up KOBA Insurance provides a comprehensive car insurance policy that focuses on servicing connected vehicles: cars that are pre-connected to the Internet. What makes it different from other insurance companies? The fees are based on how much customers actually drive their cars.
It works by fitting the KOBA Rider – a matchbox-sized module – to the car's On-Board Diagnostics (OBD) outlet, an external computer port usually located behind a panel in the lower section of the dashboard. The KOBA Rider receives real-time driving and GPS data and communicates this to the customer's smartphone app, which recognises when the vehicle is being driven.
Then, through their KOBA mobile app, customers can see trips, costs and policy documents, almost instantly.
This pay-as-you-drive model of car insurance is an absolute game-changer.
Moving Towards a Data-driven Company
To better understand user needs and market trends, and to accelerate their time-to-market, KOBA required an experienced cloud consultant to modernise their data. They required a customised data solution utilising two specific open source services, Airbyte and Plotly, to receive and manage data in the AWS environment.
In doing this, KOBA's developer team would be free to spend more time doing what they love: producing new features for the platform.
Real-Time Data in an Armoured Environment
The first step to modernise KOBA's data was to integrate all their solution components into a data lake. This included CRMs, Google Analytics, Social, paid systems and others.
DNX designed and implemented new data architecture to meet KOBA's business requirements and best market practices. The new architecture includes Airbyte to ingest data, Glue to extract data from KOBA's DocumentDB, a 3rd party Data Warehouse (DataBricks), and Plotly for analytics and reporting. The DNX team ensured that the security controls were in place to restrict access according to roles and services, minimising the chance of data breaches. DNX also ensured the solutions were centralised and monitored, meaning they were simple to maintain after the project was finalised.
DNX set up and integrated KOBA's Databricks, which is used for processing and transforming massive quantities of data as well as exploring the data through machine learning models. In addition, to enable the KOBA team to continue deploying their applications in the future, DNX created a blueprint for Airflow pipelines. This transfer of knowledge, so valued at DNX, allows for continuous sustainability from within the client's very own business.
AWS Services used:
EC2 x2 (Plotly and Airbyte)
Aiming for Excellence in Customer Service Excellence and Hectic Growth
KOBA now has a single source of truth (SSOT) which provides their entire team the ability to make crucial business decisions based on mutually accessible data. That means there are no work silos keeping people from accessing important information.
KOBA can gain insights in a quicker, simpler, more scalable way, using tools they are comfortable with, such as Data Bricks, all with the level of security they require. Databricks removed the complexity they previously experienced by increasing the ease with which they visualise data through dashboards, allowing KOBA's teams to track and predict sales, as well as generate other useful insights. Data compliance can now be easily maintained and their data is secure from unauthorised access, theft and other data breaches.
In a world influenced by technology more and more each day, DNX provides customised solutions for any business regardless of their tech needs. To keep on top of the constantly evolving technological advances, businesses have to be prepared for what is yet to come. With DNX's knowledgeable and innovative team, you can be sure to find the perfect solution for your unique business needs. As evident in KOBA's case, data modernisation not only improves your business immediately, it sets you up to work with changes in the industry as they develop. Don't be caught off-guard by the next disruptive technology, contact DNX's data modernisation team to prepare your business for the future, today.
Unlock more value from your Data
Effective leaders rely on data to make informed decisions, look around corners, and take meaningful action. They build a modern data strategy to deliver insights to the people and applications that need it, securely and at any scale. 

DNX can assist your company to apply data analytics to your most business-critical use cases with end-to-end solutions that require data expertise.