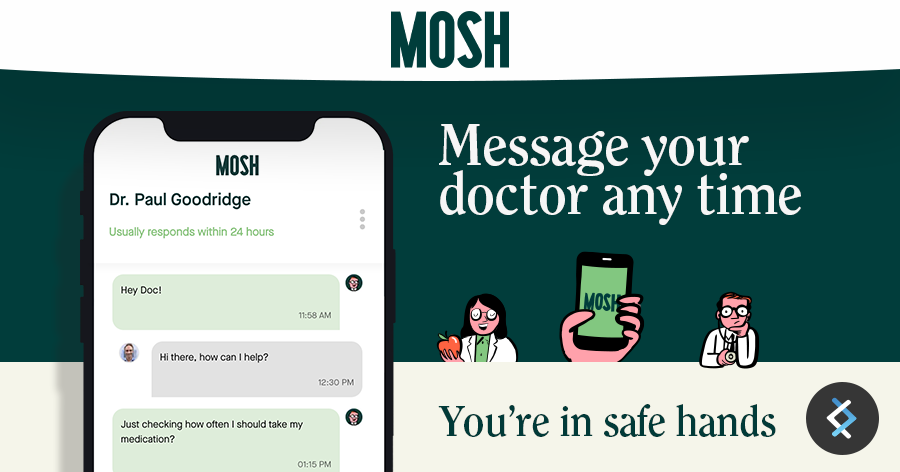 About Men's Online Support Hub (Mosh)
Sometimes, you just don't want to go to the doctor. Whether it's calling to book an appointment, travel, wait times… or just that one issue you don't feel comfortable talking about.
Founded in 2016 by Gabriel Baker and David Narunsky, Mosh is an Australian online health clinic that is making healthcare more affordable, more accessible, and more normal than ever. It's time for a new form of healthcare, and that's why over 80,000 Australians have used Mosh to connect online with doctors for personalised treatment plans for hair regrowth, weight loss, skin care, mental health and sexual health.
After filling out an online questionnaire, an Australian doctor will review the responses and recommend a personalised treatment plan within 24 hours. Before jumping into a program, clients can connect with a Mosh doctor via text, call, or video chat to discuss the options and make choices about which program is right for them. Support will continue to be provided throughout the treatment from both doctors and nurses. 
Every interaction clients have with Mosh occurs online, eliminating the awkwardness of sitting in a waiting room or carrying 'embarrassing' products through a store. Any products or prescriptions ordered are delivered right to the customer's door in discreet packaging. This kind of convenience is one reason why many men choose to engage with Mosh programs for longer than many other men's health alternatives.
With all of Mosh's services being offered online, a user-friendly and smooth system is vital to the retention of clients and scalability. The team at Mosh began operating from the cloud using the Heroku platform. As with many other businesses that start small and soon pick up speed, Heroku soon became ineffective and costly. In an attempt to reach their goal of increasing revenue from 40% to 60%, Mosh decided to transfer and store all their data in a database on AWS. However, this resulted in the team having to work simultaneously from two completely different cloud platforms, which required a unique set of skills and a lot of wasted time & energy. Additionally, Mosh's price model on Heroku was spiralling as their application required more and more Dynos in larger sizes.
The team at Mosh is committed to providing the best services and customer experience possible and knew that employing smart technology at every step would ensure the best results. They needed to simplify existing platforms so the team could operate from a single environment, enjoy the financial benefits of a pay-as-you-go model, and be free from the limitations of Heroku.
Migrating from Heroku to AWS

Assess Phase

Operating from two cloud platforms made Mosh's situation fairly unique, and required the utmost attention to detail and consideration during DNX Solution's first of three phases in the migration process. The team performed a Rapid Discovery, calculated the TCO, and undertook briefings with Mosh's key stakeholders. This allowed the DNX team to gain a thorough understanding of the business and its objectives, as well as the current and desired capabilities & infrastructure. During the Assess Phase, it became clear that the way Mosh was operating in the cloud could be drastically improved by following AWS Best Practices and ensuring there were no gaps along the six dimensions of the AWS Cloud Adoption Framework (business, process, people, platform, operations, and security).
The team considered Mosh's business goals and based on the information uncovered during the first phase, developed a business case presenting the most viable options. Mosh chose to accept the proposed solution of a full cloud migration to AWS, which would allow them to improve their customer experience, reduce costs and scale efficiently in order to meet their business growth goals.
The business case presented to Mosh contained a number of suggested strategies for the migration, which supported the team's decision-making. The first step of the Mobilise Phase involved refining the business case to ensure it was the perfect fit. This process consisted of prioritising the applications to be migrated and the exact way in which the migration would be realised. Integral to every solution offered by DNX is the practice of sharing knowledge, which not only ensures the client is in the driver's seat throughout, but also empowers them to take control in a sustainable manner post-project. The final strategy was developed with consideration of Mosh's existing infrastructure and environmental complexity, their environmental priorities, and the business criticalities.
To prepare the perfect environment for Mosh's application migration, DNX's Foundation powered by Citadel was deployed on AWS. This Well-Architected cloud foundation designed by DNX Solutions is built using infrastructure-as-code and utilises automation to ensure high-level security in the cloud. In addition, it comes compliance-ready for a range of Australian and international standards required by regulated industries. In Mosh's case, having infrastructure built with healthcare regulations in mind will result in significant cost and time savings if they choose to become HIPAA compliant in the future. Once the foundation had been deployed, the DNX team undertook a handful of pilot migrations to build a proof of concept and make any adjustments needed, before engaging in the third and final phase.
Mosh's application was fully migrated into our Foundation on AWS, then allowing for platforms to be built on top. Modernisation using cloud-native concepts of the application and data was conducted, enabling Mosh to make the best use of the tools offered by AWS and achieve the best possible outcomes. 
The modernisation and secure migration of Mosh's application and data to AWS achieved the project goal of operating from a unified cloud platform. Furthermore, Mosh's engineers now have a wider array of tools and patterns available than they previously had access to when operating on Heroku, allowing them to build applications at scale. With the ease of scalability offered by AWS, Mosh could welcome a larger number of clients while knowing the infrastructure could support this growth.
Due to the sensitive client data collected by Mosh's clients, data privacy and protection was paramount to the company's success. Knowing their business is operating from a secure cloud foundation with all the benefits our Well Architect Foundation provides, the team at Mosh can rest assured their business and customer data are protected by a high level of security that is constantly updated through automation.
Attracting & Retaining More Talents
By making the newest and more innovative technologies central to the company, Mosh now experiences ease in employee retention and has the ability to choose the very best candidates to fill open positions.
Scalability & Availability
Mosh's ability to scale in a cost-effective way was extremely limited with Heroku. AWS has a sustainable pricing model which allows for companies to scale up or down as needed, within a matter of minutes. For a growing business, this type of flexibility eliminates much of the stress related to forecasting and allows for more time to be allocated to the development and launching of new features. In terms of availability, AWS can easily support Microservices and other complex applications, as well as solutions requiring higher orchestration and maintenance. Through Amazon Computing Services, AWS can run high-load applications that need immense computing power and enables businesses to scale up or down in response to demand, reducing the need to forecast traffic. Fast deployments, auto-scaling, and other automated functions such as configuration, provide Mosh with the flexibility they need to succeed.
Security & Compliance Readiness Were Enhanced
Mosh's application and data were secured through the migration to AWS using DNX's Well-Architected cloud foundation, powered by Citadel. A high level of security is ensured in the cloud, which is built with infrastructure-as-code and automation. In addition, it is ready to be compliant with many Australian and international standards, including those required by regulated industries like healthcare. Mosh's improved security posture not only protects sensitive client information but also positions the company to pursue future compliance certifications, such as HIPAA.
Overall, the outcome of the migration to AWS enables Mosh to provide a better customer experience, reduce costs, and scale their operations efficiently. By leveraging AWS's extensive capabilities, Mosh is well-equipped to serve its growing client base and achieve its business growth goals.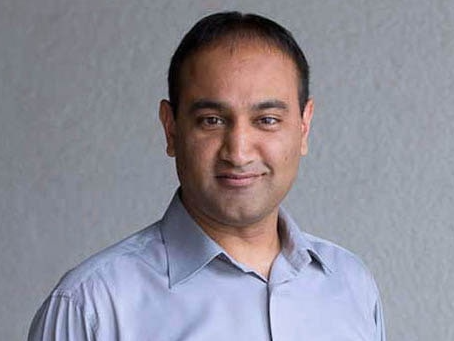 DNX have provided an exemplary service starting with the initial discovery and scoping, to project management and implementation and finally the post implementation support. I am able to trust them to provide the best practices when advising on cloud solutions given their extensive technical knowledge and expertise.