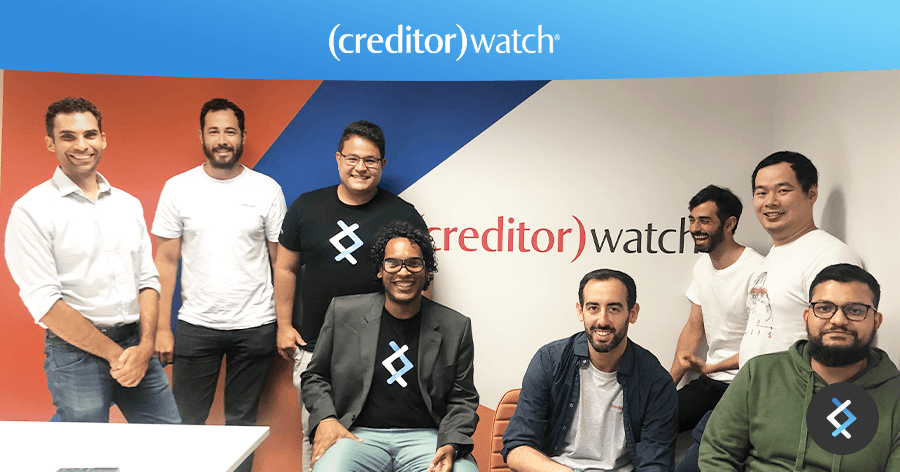 CreditorWatch was founded in 2010 by a small business owner who wanted to create an open source, affordable way for SMBs to access and share credit risk information. Today, CreditorWatch's subscription-based online platform enables its 55,000+ customers—from sole traders to listed enterprises—to perform credit checks and determine the risk to their businesses. It also offers additional integrated products and services that help customers make responsible, informed credit decisions.
CreditorWatch helps businesses understand who they are trading with and any creditor issues associated with that particular business. They analyse data from 30 different sources, including both private and government sources. Some of their most powerful behaviour data is crowdsourced from their very own customers, providing insights into businesses and allowing a genuine business-client relationship. Ultimately, CreditorWatch customers get access to Australia's most insightful business credit rating. See how all of this and more was made possible by watching the interview below or reading through the case study.
The Challenge of Australia's Largest Commercial Credit Bureau
An expansion phase saw major corporations, including Australia's Big Four banks, looking to leverage CreditorWatch's rich dataset and granular analytics capabilities. As a result, CreditorWatch decided to increase its agility and efficiency. With the need to provide a continuously secure and compliant environment, with reduced costs and decrease time to market, CreditorWatch engaged with DNX Solutions. DNX was tasked with creating and executing a roadmap for the improvements, targeting cloud-native concepts, and bringing more efficiency to the IT and Operations teams.
Through workshops during the discovery phase, DNX determined CreditorWatch's business and technical capabilities, such as the interdependencies, storage constraints, release process, and level of security. With the required information at hand, DNX developed a roadmap to meet CreditorWatch's Technical and Business objectives, using AWS best practices "The 7R's" (retire, retain, relocate, rehost, repurchase, replatform, and refactor).
A Safe Environment to Meet ISO Standards
To continue delivering a safe platform to their customers and meeting the requirements of ISO and other compliance standards, DNX constructed a new secure AWS environment utilising its DNX.one Foundation.
Rather than undergoing a lengthy and expensive process each time a safe environment needs to be recreated, DNX.one helps customers build secure and scalable container platforms at high-availability and low-cost. This unique marketplace solution designed for AWS with well-architected principles combines years of cloud experience in a platform focused on simplicity, infrastructure-as-code and open sources technologies. In addition, DNX.one provides a consistent approach to implementing designs that will scale CreditorWatch's application needs over time.
Once CreditorWatch's environment was secured with the best AWS and industry practices, it was time to move to the modernisation phase.
Instant Cost Reduction of 120K per Year With Data Modernisation
Due to the amount of data received on a daily basis, CreditorWatch's database increases considerably in size and cost.
The DNX data team worked on the data Engineering by optimising CreditorWatch's Aurora database and its tools to full capability. 
Amazon Aurora is a MySQL and PostgreSQL-compatible relational database built for the cloud that combines the performance and availability of traditional enterprise databases with the simplicity and cost-effectiveness of open source databases.
Amazon Aurora features a distributed, fault-tolerant, self-healing storage system that auto-scales up to 128TB per database instance. It delivers high performance and availability with up to 15 low-latency read replicas, point-in-time recovery, continuous backup to Amazon S3, and replication across three Availability Zones.
Aurora data is stored in the cluster volume, which is a single, virtual volume that uses solid state drives (SSDs). A cluster volume consists of copies of the data across three Availability Zones in a single AWS Region. Because the data is automatically replicated across Availability Zones, customers' data is highly durable with less possibility of data loss. This replication also ensures that databases are more available during a failover.
The Aurora cluster volume contains all user data, schema objects, and internal metadata, such as the system tables and the binary log. Its volumes automatically grow as the amount of data in the customer's database increases.
With extensive data knowledge and years of experience with AWS solutions and tools, DNX provided a unique solution to configure Aurora Database leveraging its full capabilities, which resulted in an instant cost reduction of over 90K per year related to instant threshold of data availability.
The DNX team also created an automated archiving process utilising AWS Airflow, which analyses CreditorWatch's database tables, identifying data which is unused for a period of time. Unused data is then archived with a different type of file storage at a cheaper rate than S3. This process resulted in an additional cost reduction of 30K per year.

The Unique Value DNX brought to the CreditorWatch Project
DNX Solutions utilised its knowledge on DevOps, Cloud, data, and Software Engineering to provide CreditorWatch with a secure environment that continually meets ISO and other compliance standards. The diversity of experience integrated within the DNX team allowed for instant identification of areas for improvement in CreditorWatch's systems. In addition, DNX assisted CreditorWatch in bringing about a cultural change by transferring its DevOps mindset approach. Not only was the goal of agility and efficiency reached by the close of the project, but significant storage cost reductions were made enabling CreditorWatch to compete to a higher standard and continue to expand.
Unlock more value from your Data
Effective leaders rely on data to make informed decisions, look around corners, and take meaningful action. They build a modern data strategy to deliver insights to the people and applications that need it, securely and at any scale. 

DNX can assist your company to apply data analytics to your most business-critical use cases with end-to-end solutions that require data expertise.