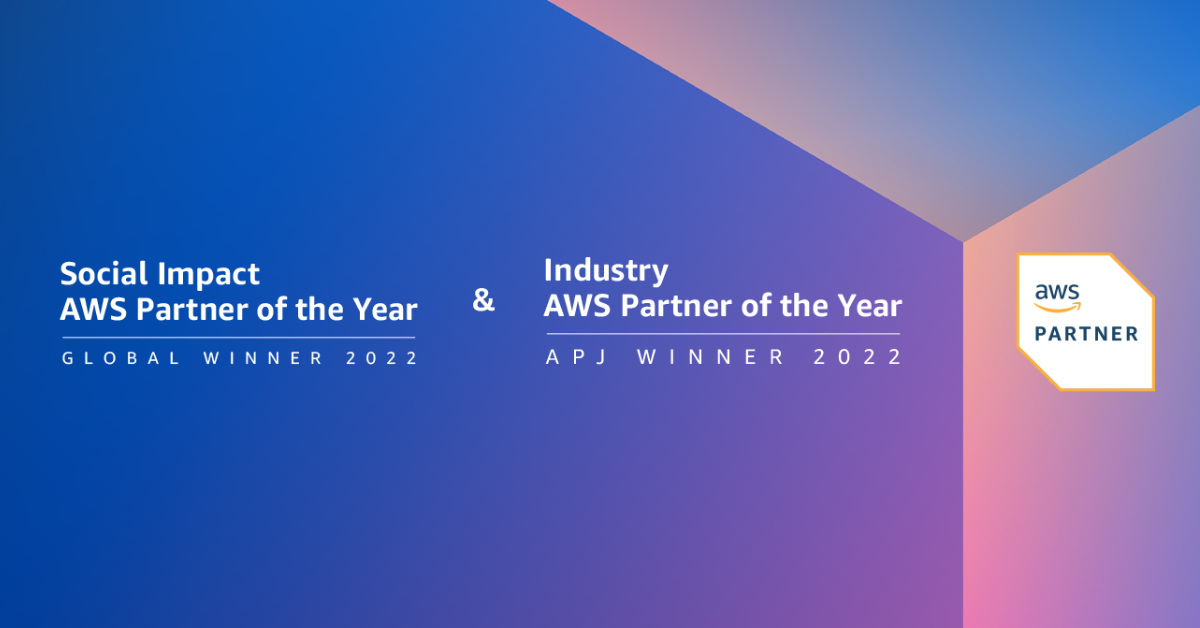 The APN Partner awards are presented by AWS each year to recognise excellence within the AWS Partner Network (APN). In November 2022, DNX Solutions was proud to be named Partner of the Year in two categories, receiving the awards at the AWS re:Invent conference in Las Vegas.
We've received top honours from AWS by being named the Global Social Impact Partner of the Year, and APJ (Asia Pacific and Japan) Industry Partner of the Year, the combination of which is a perfect reflection of what we strive for as a company.
The Social Impact award recognises AWS Partners that are committed to giving back to society and changing the world for the better.  At DNX we understand the power technology has to improve the lives of those around us and we're dedicated to delivering innovative solutions to organisations making a difference. One such organisation requested the assistance of DNX Solutions during the development of a MedTech smart app when they began experiencing difficulties with storage, encryption and transmission of sound processor firmware.
DNX delivered all backend code and infrastructure required, allowing remote device firmware updates to be performed via AWS Cloud, built on an automated, compliant pipeline. This not only reduced upgrade time from several days to just 5 minutes, but also saved recipients from having to travel to a physical clinic, meaning they could keep safe during Covid-19 lockdowns. In addition, modernisation led to improved testing capabilities, reducing time for deployments from 5 hours to 30 minutes. Overall as a result of DNX's work, the MedTech's go-to-market was drastically reduced from 3 months to 5 days, and thousands of people received the support and care they needed, without having to wait.
The Industry Partner of the Year award goes to AWS Partners that demonstrate deep level industry expertise and successfully solve industry-specific pain points. Over recent years, the team at DNX Solutions has been focussed on regulated industries, such as MedTech and FinTech, among others. These industries often require companies to meet stringent regulations in order to continue operating, and these regulations differ not only between industries but also between regions.
With the goal of solving this growing and complex need, DNX Solutions developed Citadel. The secure cloud infrastructure is customisable to be compliant-ready for a range of industry standards including CDR, SOC 2, ISO 27001, PCI DSS and HIPAA. The solution utilises automation and a network of partners to make the compliance process easy to attain and maintain. After deploying Citadel, DNX Solutions can migrate workloads and applications directly into the secure environment within AWS, putting security in first place during cloud migration. DNX Solutions has demonstrated its commitment to regulated industries by taking the time to learn, understand and gain insight into the current and future challenges each industry faces.
DNX Solutions was founded in 2019 by Helder Klemp (CEO) and Allan Denot (CTO) with the mission to democratise cloud access. As a cloud-native company and AWS Advanced Consulting Partner, we pride ourselves on bringing advanced Enterprise-level solutions to startups, scale-ups and SMBs across Australia and the globe. In less than four years our team has achieved some amazing results, including 2 AWS Competencies and over 100 AWS Certifications among our team, 4 Partner Programs, 2 AWS Service Validations, and more than 100 Customer Launches. Being named APJ Industry Partner of the Year and Global Social Impact Partner of the Year are two additional achievements demonstrating the expertise and compassion that motivates us every day.
DNX Solutions is made up of a skilled and knowledgeable team of cloud and data engineering consultants with a range of high quality solutions available. Our goal is to continue to inject value into our clients' organisations, helping them take advantage of all AWS cloud has to offer.